BSI presents an award to Future Pipe Industries celebrating 25 years of Excellence with the BSI Kitemark™.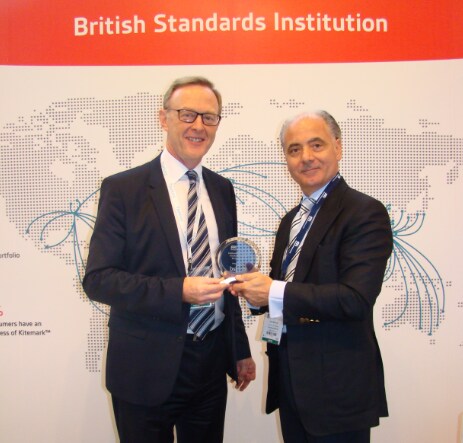 Howard Kerr, Chief Executive of BSI, presented an award to Mr Imad Makhzoumi Executive Vice President for Future Pipe Industries (FPI) at the BIG 5 Exhibition. BSI presented the award to FPI as recognition and celebration for 25 Years of Excellence with the BSI Kitemark™.
Future Pipe Industries (FPI) was founded in 1984 in Dubai, UAE. FPI has rapidly grown to become a global leader in anti-corrosive fibreglass pipe system design and manufacturing. With the largest product portfolio of large diameter, high pressure, high-temperature, fibreglass pipe systems, FPI is the only company in the world that provides bespoke solutions across the three product segments; water, oil & gas and industrial.
FPI's journey with the Kitemark began in 1991, during this time FPI have developed their business extensively into global markets. With the world pipe market demand projected to be $130 billion (USD), FPI has already a focused dominant global footprint with a presence throughout the Middle East, Africa, Europe, North America and Asia. The company employs an extensive global network, operating 13 factories in the UAE, Oman, Qatar, Egypt, KSA, USA, The Netherlands, Spain, India, Indonesia and 20 offices in 17 countries including Lebanon, UK, France, Singapore, Korea, Pakistan, mobilizing over 3,300 members of staff around the world.
BSI looks forward to another 25 years with Future Pipe Industries.
Earlier this year BSI created a case study with FPI - download the case study here