Luxury Facilities Management Company Achieves Certification to ISO 9001, ISO 14001 and OHSAS 18001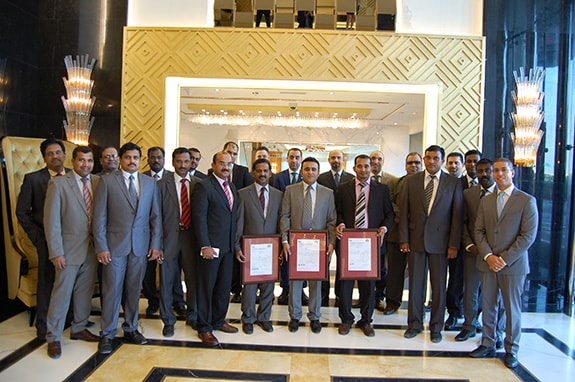 Luxury Facilities Management LLC, the company handling the facilities management of all buildings delivered by DAMAC Properties, has won three of the most important ISO certifications (International Organization for Standardization).
The certifications cover various aspects of facilities management including hard and soft services namely, "Quality Management System", "Occupational Health & Safety Management System", and "Environmental Management System". This important achievement came shortly after the "Green Building Certification" award won by DAMAC's 'NAIA at Suburbia Jebel Ali' that was delivered by the Government of Dubai.
Luxury Facilities Management LLC. is in charge of the facilities management in several iconic buildings of DAMAC Properties including The Waves, Ocean Heights, Park Towers, Marina Terrace and many other buildings.
Niall McLoughlin, Senior Vice President at DAMAC Properties said: "The three ISO certifications are a strong statement that DAMAC Properties is not only a leader in conceptualizing and executing iconic projects but it has also a distinguished high levels of services secured by its various suppliers after completion and delivery of its buildings."
The main areas covered by the certified services are split into two main fields, the first: "Hard Services" that include: MEP (mechanical, electrical, plumbing), systems maintenance, civil works, specialist systems such as fire alarm, fire protection, elevators, CCTV, access control, etc. The second field of services is "soft services" that include: cleaning, security, pest control, concierge, life guards, landscaping, waste removal, etc.
Established in 2002, DAMAC Properties has delivered almost 11,000 units to date and currently has a development portfolio of over 26,000 units at various stages of progress and planning as of June 30th 2014.
Mr Ahmad Al Khatib, General Manager for Assurance – BSI Middle East and Africa said: 'I applaud Luxury Facilities Management LLC for leading by example with their push to achieve three first class global standards across their organization. that being ISO 9001, ISO14001 and OHSAS 18001'.
Mr Al Khatib concluded: ''These certifications are evidence of Luxury Facilities Management LLC continuous efforts and commitment to best practices. The company and BSI share a common value and that is to make excellence a habit and we are looking forward to continuing working together with the organization. I would like to congratulate the entire project team, senior management and all staff members who were involved in this project.''