Qatar University - ITS department awarded ISO/IEC 27001 certification
The Information Technology Services department (ITS) has attained ISO/IEC 27001 accreditation, a world-recognized standard for information security management systems (ISMS).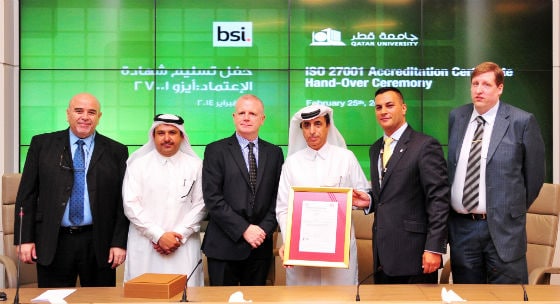 This comes in recognition of the department's successful establishment of an ISMS as part of QU's commitment to protecting the confidentiality, integrity and availability of information of all its members. In implementing the system, the department adopted a risk management-based approach to information security that empowers QU's administrative authorities to oversee and control the handling of its information assets.

In addition to the ISO 27001 accreditation, the ITS department plans to pursue compliance with the Qatar Government Information Assurance (GIA) policy whose features are considered to have more specific and stringent controls than the international standard.

Commenting on the accreditation success, Information Security Manager Mr Mohamad Eljazzar said: "It highlights the level of commitment of Qatar University to ensuring optimum security of its information as well as the processes involved in handling it", noting that accreditation does not guarantee the security of information.