EC–Council Certified Security Analyst / Licensed Penetration Tester (ECSA/LPT)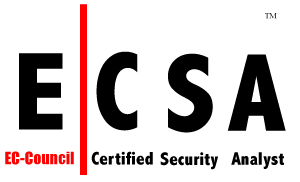 Take your ethical hacking skills to the next level with our EC–Council Certified Security Analyst (ECSA) course, giving you professional recognition as a licensed penetration tester (LPT).

Computers around the world are being victimized by rampant hacking that is executed so flawlessly that the attackers compromise a system, steal everything of value and completely erase their tracks within 20 minutes. And that's why professionals with certified hacking skills are in such high demand.
A penetration tester is very similar to an ethical hacker. The ethical hacker is usually employed with an organization and is trusted to attempt penetrating networks and/or computer systems using the same methods as a hacker.
By attending this five-day course you'll develop knowledge of an ethical hacking methodology that can be used in a penetration testing or ethical hacking situation. You'll cover topics including intrusion detection, policy creation, social engineering, DDoS attacks, buffer overflows and virus creation. Plus you'll get hands-on experience on how to conduct ethical hacking and have the opportunity to scan, test, hack and secure your own systems.
This training is a follow-up course for those who have passed the EC-Council Certified Ethical Hacker. By attending this course and successfully completing the ECSA exam on the final day you'll gain internationally recognized certified security analyst status.

How will I benefit?
Get sought after hacking skills
You'll learn from our award winning tutor, Sean Hanna
Gain knowledge of an ethical hacking methodology that can be used in a penetration test or ethical hacking situation
Be confident to scan, test, hack and secure your own systems
Get the knowledge and skills required for the ECSA exam, where you can gain Certified Security Analyst status
Those involved in, or responsible for, a company's IT infrastructure, including:
IT management
Firewall administrators
Security testers
System administrators
Risk assessment professionals
IT security officers
Network administrators
Information security team members
Site administrators
The need for security analysis
Advanced Googling
TCP/IP packet analysis
Advanced sniffing techniques
Vulnerability analysis with Nessus
Advanced wireless techniques
Designing a DMZ
Snort analysis
Log analysis
Advanced exploits and tools
LPT methodologies
Lunch
Refreshments
Comprehensive course materials
Exam*
DVD of tools
*The cost of the exam is included in the course. You'll be provided with a voucher that will allow you to take the exam on the final day of the course.
Our training team will be happy to answer any questions you may have.