CREST Registered Intrusion Analyst v2.1 training course
This is the first cross discipline course of its' kind that covers the essential knowledge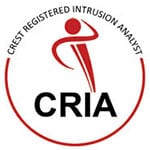 and hands-on practical skills needed for intrusion detection, incident handling, computer/network forensics and malware reverse engineering.
This course raises the bar and sets a new security baseline for existing practitioners and aspiring Intrusion Analysis and Digital Forensics professionals. Every team member should take this course a some point along their career path. Following this course a student may challenge the CREST core skills exam resulting in the CREST Registered Intrusion Analyst (CRIA) professional qualification.
How will I benefit?
Learn how to detect an attack
Understand how to handle it
Know how to trace and acquire the evidence
Have the ability to investigate, analyse and re-construct the incident
You must already hold the CREST Practitioner Intrusion Analyst (CPIA) qualification, which is a pre-requisite for the CRIA qualification.
Aspiring information security personnel who wish to be part of an incident response team
System administrators who are responding to attacks
Incident handlers who wish to expand their knowledge into digital forensics
Government departments who wish to raise and baseline skills across all security teams
Law enforcement officers or detectives who want to expand their investigative skills
Information security managers who would like to brush up on the latest techniques and processes in order to understand information security implications
Anyone meeting the pre-requisites who is considering a career in Intrusion Analysis or Digital Forensics
The programme is broken into sixmodules:
Module 1: Soft skills and incident handling
Module 2: Core techncial skills
Module 3: Network intrusion analysis
Module 4: Analysing host intrusions
Module 5: Reverse engineering malware
Module 6: CRIA exam preparation and mock exam
Lunch
Refreshments
Comprehensive course materials
Certificate of attendance