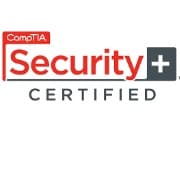 Security affects all areas of business, not just the IT department. In addition to a firm's loss of income and employee productivity, a security breach can cost a business its reputation. Demonstrating that you can stay ahead of the ever-changing security issues is a key marketable skill in today's job market. CompTIA Security+ certification validates experienced technology knowledge of security as it relates to the overarching subject matter areas.
How will I benefit?
Have the ability to quickly respond to security issues
Proactively implement sound security protocols to mitigate security risks
Systems Administrator
Network Administrator
Junior IT Auditor/ Penetration Tester
Security Consultant
Security Engineer
Those with a working knowledge of TCP/IP
Network security
Compliance and operational security
Threats and vulnerabilites
Application, data and host security
Access control and identity management
Cryptography
Lunch
Refreshments
Comprehensive course materials
Certificate of attendance
Although there are no official requirements from CompTIA prior to undertaking this course, it is our recommendation that delegates wishing to undertake the course have a good understanding of networking and networking concepts.