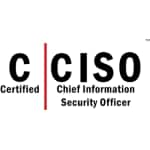 The CCISO Certification is an industry-leading program that recognizes the real-world experience necessary to succeed at the highest executive levels of information security.
Our four-day EC Council accredited training course provides in-depth knowledge covering information security management as well as technical implementation and financial planning.
The course will also prepare you to sit the either the EC Council CCISO or EISM certification exam.
The Certified CISO (CCISO) program is the first of its kind training and certification program aimed at producing top-level information security executives. The CCISO does not focus solely on technical knowledge but on the application of information security management principles from an executive management point of view. The program was developed by sitting CISOs for current and aspiring CISOs.
Our accelerated four-day course covers the following domains
• Governance, Risk and Compliance
• Information Security Controls and Audit Management
• Security Program Management and Operations
• Information Security Core Competencies
• Strategic Planning, Finance and Third-Party Management
Each segment of the program was developed with the aspiring CISO in mind and looks to transfer the knowledge of seasoned professionals to the next generation in the areas that are most critical in the development and maintenance of a successful information security program.
Through participation in our course thought by industry-leading trainers, you will gain the knowledge to understand and best manage information security issues back in your organization.
Why BSI?
Our unique accelerated approach fast-tracks learning by improving your knowledge retention and skill application. This course involves practical activities, group discussions, and classroom learning to help you develop a deeper understanding of the material and have a greater impact on job performance.
How will I benefit?
This course and professional certification will provide you and your organization a competitive advantage in the marketplace, through attending this course, you will:
Explore challenges faced by high-level executives leading an information security program
Understand the role of the CISO and security requirements and their integration into other operational processes
Make the connect between the executive management knowledge that CISOs need and the technical knowledge that aspiring CISOs have
Gain the technical knowledge required to transition from mid-management to upper, executive management roles
Understand how to develop business cases for information security projects
Understand how to define and implement an information security governance program in alignment with the strategic direction of the business
Understand security control types, the role of metrics and their implementation and management.
Understand risk and be able to assess and manage risk according to the appetite of the business.
Understand the audit management process, vendor management and third-party risk.
Be able to integrate security requirements into contractual agreements and procurement processes
Understand financial planning, return on investment and forecasting CAPEX and OPEX projects.
This training course is ideal for executives looking to hone their skills & learn to better align their information security programs to the goals of the organization as well as aspiring CISOs. Other information security management certification programs focus on middle management. CCISO focuses on exposing middle managers to executive-level content as well as encouraging existing CISOs to continually improve their own processes & programs.
Common roles to attend our CCISO courses include:
Security consultants
Security managers
IT directors/managers
Security auditors
Security architects
Security analysts
Security systems engineers
Chief information security officers
Security directors
Network architects
This training provides candidates with the knowledge and expertise in information security governance and principles, program development and management, legal and regulatory issues and requirements, business continuity and disaster recovery, supply chain and 3rd part risk, incident management and risk management and covers an extensive review of information security concepts and industry best practices
Governance and Risk Management

Business Drivers
Information Security Drivers
Risk Management
Risk Management Frameworks

Information Security Controls, Compliance and Audit Management

Information Security Controls
Compliance Management
Guidelines, Good and Best Practices
Audit Management
Risk Communication

Security Program Management and Operations

Program Management
Operations Management

Governance and Risk Management

Access Control
Physical Security
Network Security
Endpoint Protection
Application Security
Encryption Technologies
Virtualization security
Cloud computing security
Transformative technologies

Security Program Management and Operations

Strategic Planning
Designing, Developing and Maintaining an Enterprise Information Security Program
Understanding Enterprise Architecture
Finance
Procurement
And Vendor Risk Management
Comprehensive course materials
Certificate of attendance
Exam voucher
Certification requirements
On completion, you'll be awarded a Certificate of attendance and after completing the required EC Council Exam along with fulfilling the application process you will be certified as either an EC Council CCISO or EISM.