CREST Registered Tester v2.1 (CRT) training course
The CRT course leads to the the CREST Registered Tester (CRT) examination, which is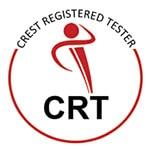 recognized by the NCSC as providing the minimum standard for CHECK Team Member.
Who should attend?
Aspiring information security personnel who wish to be part of a PenTest team
System administrators who are responding to attacks
Incident handlers who wish to expand their knowledge into Penetration Testing and Digital Forensics
Government departments who wish to raise and baseline skills across all security teams
Law enforcement officers or detectives who want to expand their investigative skills
Information security managers who would like to brush up on the latest techniques and processes inorder to understand information security implications
Anyone meeting the pre-requisites who is considering a career in Penetration Testing
What will I learn?
The programme is broken into nine modules:
Module 1: Core technical skills
Module 2: Background information gathering & open source
Module 3: Networking equipment
Module 4: Microsoft windows security assessment
Module 5: Unix security assessment
Module 6: Web technologies
Module 7: Web testing techniques
Module 8: Databases
Module 9: Preparation for the CRT exam
How will I benefit?
Have the ability to carry out basic vulnerability assessment and penetration testing tasks
What's included?
Lunch
Refreshments
Comprehensive course materials
Certificate of attendance