EC-Council's Certified Chief Information Security Officer (CCISO)
The EC-Council's Certified Chief Information Security Officer (CCISO) program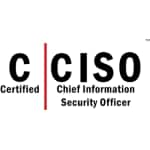 has certified leading information security professionals around the world. The program comprises three components: Training, Body of Knowledge, and the C|CISO exam.
In the development of each, committees of information security executives were formed to guide the creation of each facet of the program. The C|CISO Advisory Board contributed by forming the foundation of the program and outlining the content that would be covered by the exam, body of knowledge, and training. Some members of the Board contributed as authors, others as exam writers, others as quality assurance checks, and still others as trainers.
Each segment of the program was developed with the aspiring CISO in mind and looks to transfer the knowledge of seasoned professionals to the next generation in the areas that are most critical in the development and maintenance of a successful information security program.
Who should attend?
Those with at least five years of information security management experience in each of the five C|CISO domains.
What will I learn?
Module 1: Governance
Module 2: Security risk management, controls and audit management
Module 3: Security program management and operations
Module 4: Information security core competencies
Module 5: Strategic planning, financial management and vendor management
How will I benefit?
Explore challenges faced by high-level executives leading an information security program
Make the connect between the executive management knowledge that CISOs need and the technical knowledge that aspiring CISOs have
Gain the technical knowledge required to transition from mid-management to upper, executive management roles
What's included?
Lunch
Refreshments
Comprehensive course materials
Certificate of attendance
Exam voucher