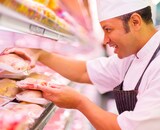 Live webinar: Building resilience with BRC Global Standards - Meeting legal obligations and ensuring delivery of safe food
Ensuring food safety, packaging, storage, and the process of distribution are key to providing your customers with confidence that your products are safe, legal, and of high quality. Brand Reputation Compliance Global Standards (BRCGS) are designed to support you and your organization in achieving these goals.
Join our live webinar to learn more about the benefits of BRCGS and how to benchmark your existing practices against the criteria.
30 June 2021 | 15:00 - 16:00 GST