BSI road safety materials performance certification scheme
The purpose of the scheme is to provide certification of safety materials used in road-marking applications, especially on highways administered by the Highways Agency and Local Authorities.
The scheme operates the UK National trials in respect of European standards
BS EN 1824, BS EN 1436, BS 7962 and BS EN 1463.
The scheme involves:
Manufacturers laying permanent or temporary hot thermoplastic line marking product and or preformed, cold plastic or other line materials) on the road once a year. The permanent products are tested again after 1 year to the respective European standards. The temporary products are tested again after the required period to the respective European standards.
Manufacturers fix permanent or temporary stud products on the road at the trials. The products are tested to the respective European standards
Following the completion of testing on the trial site and associated laboratory testing, BSI issues test reports and certification documents where applicable.
Information for Specifiers
BSI Kitemark certification for road traffic signs is a simple, effective and efficient way to demonstrate compliance with the new European Legislation and the scheme now reflects the revisions to EN12899-1
This new Kitemark will allow Specifiers to identify those manufacturers who are already complying with the future requirements of the new Instruction, and are adhering to strict quality processes to ensure the continuing high standard of their products.
The Kitemark scheme is also available to the manufacturers of the sheeting material. In addition to helping sheet manufacturers to comply with the requirements for CE marking, Sign manufacturer who select Kitemark certified material can drastically reduce the cost of Kitemark certification for the finished signs.
Why Specifiers choose Kitemark:
Reduced Risk
Kitemark demonstrates safe, quality products and services time after time
Increased confidence
Kitemark reassures that the relevant standards or performance requirements have been met or exceeded
Time saved
Specifying Kitemark helps you make quick, informed decisions that you can trust
Information for Manufacturers
Road signs have been identified as "High Risk" under the Construction Products Instruction (CPD) because of their function of informing and warning the motorist. This being so, they must be independently assessed to gain the required CE mark in the very near future.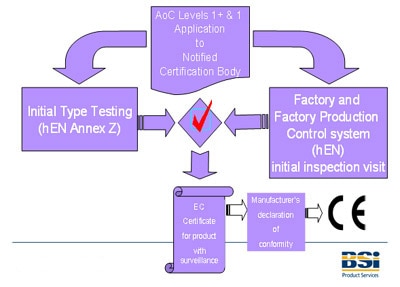 The Kitemark scheme mirrors the requirements for CPD (as shown above) allowing manufacturers to be one step ahead and achieve due diligence in advance of the transition to CE marking. Why Manufacturers choose Kitemark:
Growth in Revenue
Kitemark approval delivers customer confidence that can win more contracts
Increased Profit
Kitemark approval gives you confidence to compete on quality and not price
Reduced Risk
Kitemark approval shows total commitment to safety