Immersive technology solutions
Immersive Technology Solutions
Transforming business. Delivering results.
Transforming business. Delivering results.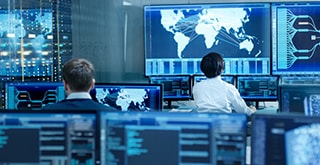 What are Immersive Technology Solutions?
Technology is changing the way BSI delivers many of its audit, training and certification services. This allows us to connect to our clients in new and effective ways. BSI's Immersive Technology Solutions (ITS) suite allows our subject matter experts (SMEs) to work with you remotely and to continually deliver value to your organization.
Maximizing the benefits of technology, we can support your expectations, wherever you are in the world. Immersive Technology Solutions enable us to deliver our services with the same levels of excellence across the globe.
HEAR WHAT OUR CLIENTS HAVE SHARED
BRIAN, OPERATIONS MANAGER SCHLEGEL ELECTRONIC MATERIALS. ELECTRONICS MANUFACTURER, US

NICK, GENERAL MANAGER KIARTYS ENGINEERING LIMITED. AEROSPACE SECTOR, UK

ROY, ABELLIO RAIL REPLACEMENT. TRANSPORT SECTOR, UK

ERICA, SR. MGR EHS MEDLINE INDUSTRIES, INC. HEALTHCARE SECTOR, US
Benefits of Immersive Technology Solutions
Maintain your audit, training and inspections schedule regardless of current situations
Align with the technology that works best for you with our flexible approach
Significantly reduce your carbon footprint and ours
Access our experts without geographical constraints
Be consistent with communication between your participants and the BSI expert through a single live stream
Gain real cost savings due to reduced travel