ENEC mark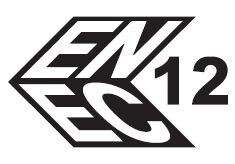 The ENEC (European Norms Electrical Certification) Mark is the high quality European Mark for lighting, light fittings and electrical equipment that demonstrates compliance with relevant European safety standards.
Unlike acquiring the CE Mark, which is a self-certification procedure, the ENEC Mark is voluntary, and can only be granted by approved independent testing laboratories, such as BSI.
The benefits of obtaining the ENEC Mark for manufacturers are far reaching, from being able to bring products to market quicker, to offering greater assurance to your customers, and the wider market place, about the safety performance of an electrical or lighting product.
What the ENEC Mark shows
ENEC is a full certification scheme (ISO Type 5). The ENEC Mark logo demonstrates that:
The electrical product has undergone type testing and complies with appropriate European safety standards (ENs)
The manufacturer applies a ISO 9001 compliant quality management system, including an annual factory inspection
The manufacturer undertakes ongoing quality monitoring of its product and production processes
The electrical product is re-tested every two years to ensure continued compliance
The ENEC Mark is a powerful tool in proving independent third-party testing and certification, and has been used to verify over 85,000 electrical products to date.
The ENEC Mark – What it covers
The ENEC Mark covers an extensive range of lighting and electrical equipment, including:
All types of luminaires, their fittings and components, including fixed and portable general-purpose luminaires, recessed luminaires, street lighting and garden luminaires
LED modules for general lighting purposes
Safety isolating transformers
Power supply units
Controls, switches and connecting devices
Lamp control gear
Plugs, sockets and appliance couplers
Fixed capacitors
Household electrical appliances, including vacuum cleaners, washing machines, dishwashers, toasters, heaters, microwaves, fridges, cookers, lawn mowers and security alarm systems
Consumer electronics, such as hand-held electrical tools and audio/video equipment
IT equipment
How BSI can help
As a founding signatory of the ENEC agreement, BSI is a recognized, leading independent ENEC approved testing laboratory. Our team of experts can help you on your compliance journey.
As well as offering unrivalled testing facilities and competitive pricing, we can guide you through all aspects of ENEC mark testing and certification, enabling you to sell your products with confidence throughout Europe, whilst boosting your brand reputation.
Want to apply for the ENEC Mark for your lighting or electrical equipment? Call BSI's testing and certification experts today on +6 03 2242 4211.