Microbiology and Sterile Medical Devices
Microbiology and Sterile Medical Devices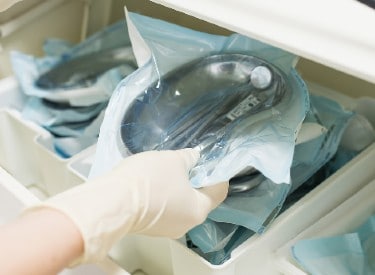 Setting the standard with our expert Microbiology team
As a manufacturer of a sterile medical device, meeting the necessary ISO 13485, regional and global regulations can be a challenging and complex process. It is critical to work with a notified body that understands the industry and has the experience to review and confirm your product's readiness for market – efficiently, promptly and robustly.
What is microbiology and what are sterile medical devices?
A sterile medical device is a device that must be free from live bacteria or other microorganisms and their spores. Sterile medical device requirements are defined by national or regional standards and regulations, which detail the sterility requirements. Sterilization of a medical device may include exposure to ethylene oxide, gamma irradiation, steam, dry heat, or chemical sterilization under defined conditions, and any necessary post-treatment required for the removal of by-products.
Sterilization of medical devices is a specialized process and requires specific knowledge and expertise. We are passionate about patient safety and reducing patient risk through microbiology assessments, carried out by our qualified microbiologists. A typical microbiology assessment from BSI would include:
Verifying effective controls are in place to assure the sterility and product bioburden of your medical device
Assessing your environmental monitoring and controlled environment room or cleanroom areas
Verifying effective implementation of sterility assurance levels through sterilization and sterile barrier validations
Assessing the suitability and effectiveness of disinfectants and sterilizers
Assessing the suitability and effectiveness of instructions for end user sterilization and reprocessing
Our microbiologists and technical specialists collaborate and are able to support in all areas including dental, ophthalmic, orthopaedic, vascular, active implantable, active, medicinal substances, devices utilizing animal tissue and general sterile devices.
We conduct Quality Management System (QMS) assessments to ensure compliance with ISO 13485 as well as other global regulations and sterilization standards (i.e. MDSAP, MDR, IVDR, EN ISO 11135 and EN ISO 11137-1). We also perform Technical Documentation reviews under the IVDR and MDR.
Why choose BSI for your product compliance to the MDR?
BSI has two Notified Bodies, one in the UK (0086) and one in the Netherlands (2797), both of which have full scope designations to the IVDR and MDR. Our Microbiology team has a broad range of medical, pharmaceutical, industry and regulatory experience, including product design and development, manufacturing, sterilization, and product testing.
Our technical specialists have an average of 20 years' experience in the industry and understand the scientific aspects of the sterilization process. This world-leading experience supports you as a manufacturer by providing expert feedback on controlled environments and the sterility of your medical device.
BSI is trusted by the two largest global sterilization service providers to complete their QMS and sterilization audits. We are the Notified Body of choice for over 90% of contract sterilization registrations worldwide.
The implementation of the appropriate sterilization technique can be the difference between a medical device not receiving certification and one which is approved for use on the market to enhance and save patients' lives. Contact us early in the planning process for your sterile medical device submissions and certifications.
---