Supporting your medical device business
We ensure patient safety while supporting timely market access for our clients Medical Device products globally.
We provide our customers with thorough, responsive, predictable conformity assessments, evaluations and certifications that are recognized and accepted worldwide.
Maintaining quality, delivering excellence
BSI Medical Devices offers certification services to support your global market access goals. We are:
Find out more about all of our services.
New Medical Devices Regulation and IVD Regulation now published

The final texts of the new European Medical Devices Regulation (MDR) and IVD Regulation (IVDR) have been published in the Official Journal of the European Union. Entry into force will commence on May 25th, marking the start of the transition period for manufacturers selling medical devices into Europe.
You can find more information on our dedicated revisions webpages:
How BSI can support your medical device business
We understand the specific challenges medical device manufacturers face and the importance of bringing innovative yet safe products to global markets. Ensuring the predictability and transparency of regulatory product clearance is key to maintaining a competitive edge.
Our commitment to excellence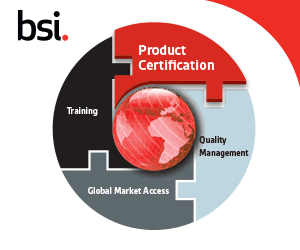 Manufacturers tell us they need to work with a highly competent, customer focused Notified Body that understands the specifics of their environment and the importance of complete confidentiality around patent pending new technology.
Our services are designed to align with the steps individual clients need to take to understand what is best practice, how to achieve it and ensure that it remains an ongoing habit.
We provide rigorous quality management reviews and product certifications for medical device manufacturers around the world, and we can do it for you too.
What are the benefits of ISO 13485 Medical Devices?
Increase access to more markets worldwide with ISO 13485 certification
Outline how to review and improve processes across your organisation
Increase efficiency, reduce costs and monitor supply chain performance
Demonstrate that you produce safer and more effective medical devices
Meet regulatory requirements and customer expectations
Access to Global Markets
By working with BSI, medical device manufacturers are choosing to seamlessly access global in-house experts with regulatory experience in a wide-range of products and technical areas. Our experts have extensive hands-on experience in all aspects of the product life cycle including R&D, manufacturing and quality.
We are an approved "full scope" Notified Body recognized by the European Commission for 17 Directives and also hold recognition by FDA (US), CMDCAS (Canada), JPAL (Japan), ZLG/ZLS (Germany), and (Australia under MRA),Taiwan FDA (under TCP program), and HongKong MDCO (under HKCAB). We offer a results-focused portfolio of products and services for each stage of your certification journey, and we are committed to establishing long-term, proactive relationships with our customers.
---