Bluebee adds a new certificate to its Security Portfolio
Who is Bluebee?
Bluebee was founded in 2011 as a spinout from the leading institutes Delft University of Technology (the Netherlands) and Imperial College London (United Kingdom).
Bluebee offers a global bio-informatics platform to process, analyze, share and store genomics data. With a private cloud service, Bluebee supports users to deploy applications for clinical diagnostics, therapeutics and research, with advanced analytics for genomic data driven medicine.
Why NEN 7510 certification?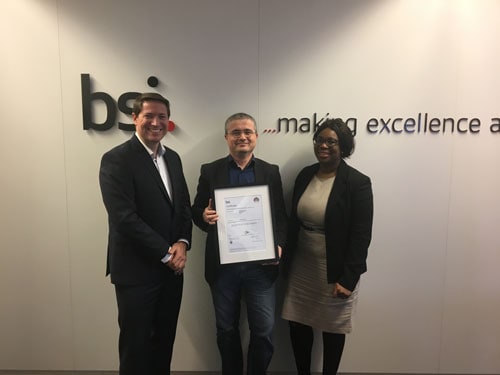 Data security is of utmost importance to Bluebee. With their ISO 27001:2013 certification Bluebee proved that their information security management system is well managed. NEN 7510:2011 certification has recently been achieved in addition to this. This is the Dutch standard detailing requirements on information security for organizations processing and managing patient data. Required by the Ministry of Health, Welfare and Sport the current standard is based on the ISO 27001:2005 controls with additional focus on patient health information.
Since Bluebee is already ISO 27001:2013 certified, the implementation of NEN 7510:2011 was a next step. Sophia Kankuah, the Compliance Officer of Bluebee is proud of the achievement and she sees the benefits of compliance to this standard:
"Having NEN 7510:2011 certification highlights Bluebee's commitment to security and compliance and further demonstrates its ability to comply with local regulations."
The scope of NEN 7510:2011 certification mirrors the scope of its ISO 27001:2013 "Develop, manage, support a cloud-based analysis platform for processing large volumes of genomic data". Bluebee's certification will be annually assessed to ensure compliance with its technical, organizational and procedural processes.
Bluebee chose BSI as their certification body based on their experience with ISO 27001:2013. Koen Béroudiaux, lead auditor of BSI, was satisfied with the way Bluebee managed their information security management system. He stated:
"The NEN 7510 certificate of Bluebee, on top of their certified ISO 27001 information security management system, was found well underpinned because of strong software development management controls including effective issue tracking, source code analysis, and the use of the four-eyes principle as well as solid data validation on 300+Gb files. We had the impression that Bluebee is moving boundaries in the field of computing for genomics analysis."