Coles Housebrand Supplier Program
Coles Housebrand Supplier Program
Independent third-party audits for suppliers of Coles "housebrand" food products
Independent third-party audits for suppliers of Coles "housebrand" food products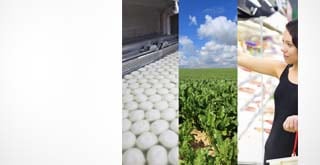 Coles Supplier Requirements – Food (CSR-FV3) Program
Independent third-party audits for suppliers of Coles "housebrand" food products. Suppliers are manufacturers of Coles branded products, which also includes bulk or loose product in a display case (fresh produce or condiments sold in the Deli) or ingredients/raw materials for the in-store Bakery or Meat room.
All suppliers must follow the Coles Brand Guidelines, Policies and overall requirements.
Coles Supplier Requirement (CSR) Program
What Standard do I need certification to?
Suppliers must certification against an external GFSI standard. Three different standards have been selected in order to cover the range of supplier types in the Grocery Food and Fresh Food areas:
• SQF
• The BRCGS Global Standard for Food
Some standards are not suitable for all types of supplier. For example BRCGS is not applicable to on-farm activities and Freshcare is not applicable for Distributors.
The Freshcare and SQF standard are suitable standards for Produce Suppliers.
Why BSI?
BSI believes the world should be supplied with food that has been produced to an industry recognised food safety standard. We offer a broad range of food safety certification and risk management services to help all organizations in the food supply chain achieve compliance and industry best practice to grow their business.
We're a leading food safety and certification provider with extensive auditing capacity and the capability to conduct integrated audits for a wide range of food safety standards across the entire food and beverage supply chain – including GFSI-recognized standards.
Our service solution for food safety includes certification, training, assessment and supply chain software, providing you and your customer's assurance and enabling you to manage risk more effectively.