Australian Wood Packaging Certification Scheme (AWPCS)
Australian Wood Packaging Certification Scheme (AWPCS)
The standard regulating the movement of timber to prevent the spread of timber pests
The standard regulating the movement of timber to prevent the spread of timber pests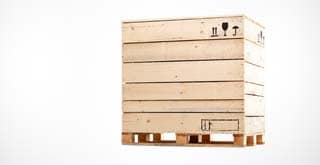 Australian Wood Packaging Certification Scheme (AWPCS)
The AWPCS is a certification scheme developed by Australian Quarantine and Inspection Service (AQIS) to ensure that Australian treatment providers and wood packaging manufacturers produce wood packaging material that meets the requirements of ISPM 15.
ISPM 15 is an International Standard and was developed to address the global spread of timber pests by regulating the movement of timber packing and dunnage in international trade. ISPM 15 describes phytosanitary measures to reduce the risk of introduction and/or spread of quarantine pests associated with solid timber packing material.
The AWPCS Certification Scheme applies to all organizations that export products or packaging containing coniferous (softwood) and non-coniferous (hardwood) raw wood packaging material.
This standard does not apply to wood packaging made wholly of wood-based products such as:
Plywood
Particle board
Oriented strand board
Medium density fibre board
Products created using glue, heat and/or pressure
Recent Changes
The Department of Agriculture and Water Resources have re-issued the Australian Wood Packaging Certification Scheme for Export (AWPCS) as Version 3.0 dated May 2017.
Summary of changes to the AWPCS standard is provided on the Department of Agriculture and Water Resources website. All companies certified under the AWPCS will be listed on the AWPCS Register, which can also be found on the DAWR website.
Benefits of AWPCS
Allows you to become a more consistent competitor in your marketplace
Minimize export costs due to incorrect heat or fumigation treatments
Reduces risk and product liability
Demonstrate your compliance and commitment to product quality

Reduce risk to plant health

Provide assurance to your stakeholders and customers

AWPCS is JAS-ANZ Accredited and complies with International Standards for Export
Our auditors have extensive experience in Product Certification, are cost-effective and are located across Australia.