ALDI Supplier Requirements
ALDI Supplier Requirements
Ensure you meet ALDI's supplier requirements and supply safe food products
Ensure you meet ALDI's supplier requirements and supply safe food products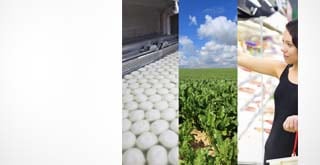 ALDI Supplier Requirements
The first Australian ALDI store opened in January 2001. With over 200 stores now successfully operating across NSW and ACT, ALDI has quickly become a major player in the provision of quality food products.
In order to grow their Australian business, ALDI is interested in more Australian based suppliers for their supermarkets. In a recent adaptation to the ALDI Corporate Global Supplier Policy, all suppliers are now required to have compliance to a Global Food Standard Initiative (GFSI). BSI has the capability to audit your organization to the ALDI addendum at your next scheduled SQF or BRCGS audit. This change will remove the need for a separate ALDI audit and possibly reduce your amount of annual audit visits.
How BSI can assist
BSI has a team of experts across Australia, New Zealand, Asia, USA, UK and Europe who are trained and available to audit against SQF and BRCGS. Whilst auditing to these standards, your auditor can also audit you to the ALDI supplier requirements.
Why BSI?
BSI believes the world should be supplied with food that has been produced to an industry recognised food safety standard. We offer a broad range of food safety certification and risk management services to help all organizations in the food supply chain achieve compliance and industry best practice to grow their business.
We're a leading food safety and certification provider with extensive auditing capacity and the capability to conduct integrated audits for a wide range of food safety standards across the entire food and beverage supply chain – including GFSI-recognized standards.
Our service solution for food safety includes certification, training, assessment and supply chain software, providing you and your customer's assurance and enabling you to manage risk more effectively.