How can prioritizing people make your organization more resilient?
How can prioritizing people make your organization more resilient?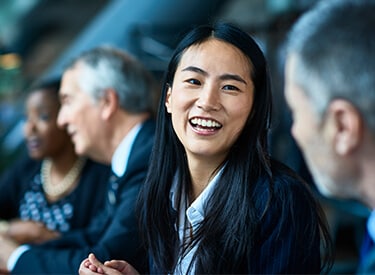 BSI's Prioritizing People Model© embeds well-being, inspires trust, and ensures your organization is future ready.
Achieving long term organizational resilience relies on robust health, safety and well-being to attract talent, drive trust and foster a corporate culture that skilfully balances the needs of your people, purpose and profit.
In our latest whitepaper, BSI launches a new best practice model – Prioritizing People Model© – that creates a framework for unlocking your people's full potential. It identifies that trust is the essential component to unlocking this potential, and in turn rewards your organization with innovation, resilience and effective workplace well-being.
What key insights you can find from our new prioritizing people whitepaper
BSI's Prioritizing People Model©
BSI's Prioritizing People Model© sets out best practice and the integrated elements that will deliver a culture of trust and support a resilient organization. It recognizes that trust has grown in those organizations that have prioritized their people, which, in turn, has enhanced organizational resilience. BSI's own Organizational Resilience Index Report 2021 finds that prioritizing the health, safety and well-being of employees (along with clients and communities) were strongly indicated to have had a positive impact on rebuilding Organizational Resilience.

Inspired by Maslow's hierarchy of needs, our model describes the best practice approach to workplace well-being, using the principles of basic, psychological and actualization needs to create a framework for unlocking the full potential of people.

It encompasses the physiological and safety elements that are needed to provide decent, safe, healthy and compliant organizations; the belonging and esteem elements to deliver an engaged, committed and productive workforce; and culminates in the actualization of both people's and the organization's potential, demonstrated through innovation. By embedding this best practice model, an organization creates a culture of trust which enhances its resilience.
Well-being is a term that is often misunderstood. Well-being in the context of the workplace becomes even more confusing. So what is best practice in terms of workplace well-being and how can it create a more resilient organization?
COVID-19 has created a culture of care within organizations which has seen a renewed focus on individuals physical and mental health. BSI's Organizational Resilience Index report 2021 has shown that organizations that prioritized their people, have been the most resilient. So how do we evolve this culture of care for the long-term and the organizational resilience that comes with it?
During the COVID-19 pandemic, a new culture of care has emerged. But what has driven this? A far more important cultural shift has happened which if embraced has far reaching, powerful and really exciting benefits for organizations and the individuals that work for them. What is this cultural shift and how it can create a more resilient organization?
Engaging in innovation is a way for an organization to be future-focused and deliver its overall strategy of securing prosperity, sustainability and long-term resilience. But organizations have to create the right culture for innovation. The culture needed is one which prioritizes people, embracing diversity to unlock the creativity needed for innovation. How can organizations create fair and respectful workplaces where diversity, equity and inclusion are part of corporate DNA?
COVID-19 has seen a renewed focus on mental health. The always on culture means that we have never been more connected, yet for many we have never felt so isolated. Work loads, work life balance, job insecurity, constant change and uncertainty are having a detrimental impact on our psychological health. How can we create the right conditions at work to support people in these challenging times, and beyond, and allow their psychological health to thrive?