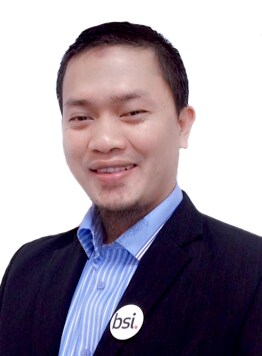 Professional Qualifications :
Trainner for ISO 9k
Trainner for ISO 18k
Trainner for ISO 14k
Trainner for ISO 27k
---
Academic Qualification :
Magister of Industrial Engineering at Universitas Mercu Buana, Jakarta
---
Professional Experience :
BSI Group Indonesia
Position : Trainner
Highlights: Trainner for ISO 9001, ISO 14k, ISO 18k, and ISO 27k.
---
Tutor Experience:
Tutor for Senior Management Briefing ISO 9001:2015 at Badan POM
Tutor for Advanced Internal Auditor ISO 9001:2015 at Otoritas Jasa Keuangan
Tutor for Requirements and Internal Auditor ISO 9001:2015 at Wilmar Nabati Indonesia Plant Gresik
Tutor for MR Quality at Bank Central Asia
Tutor for Auditor Transition Training Course at DG CORP
Tutor fot Auditor Transition Training Course at STMIK AMIKOM YOGYAKARTA
Tutor for Auditor Transition Training Course at PREMYSIS CONSULTANT
Tutor for Transition and Implementation Changes ISO 9001:2015 at PT. Caterlindo
Tutor for Transition, Implementation and Internal Auditor ISO 9001:2015 at PT. Indoprima
---
PT Bintang Solusi Utama 2015 - 2016
Position: Manager
Responsibility:
To develop trainingscheme and program
To review and improvetraining system
Trainer role model for other trainer
---
PT. Serfindo Utama 2013 - 2015
Position: Director
Responsibility:
Develop system for general operation as certification representative
Grant approval from overseas certification body as the sole representative for Indonesia
Establish brand and image for certification body granted.
---
PT.DAS Sertifikasi International Indonesia 2011 - 2013
Position: QA/MR/Auditor/Trainer
Responsibility:
Conduct 3rd party audit on behalf DAS Certification Indonesia
Review audit reports from other auditors
Conduct training on behalf of DAS Certification Indonesia, including prepare the material
Present company's product to prospective clients
Representing company in some meetings with client and/orGovernmental representative
---
PT NSK Bearings Manufacturing Indonesia 2008 - 2011
Position: QA/Quality improvement/Internal Auditor for ISO/TS 16949/Internal trainer
Responsibility:
Quality improvement special team member, to take action to reduce quality problems.
Analysis and improvement of packaging system (pallet and tube handling)
Internal problems countermeasure for automotive ball bearings.
Involved in every audit conducted, from internal and external including second party audit
Develop training material related with Quality for Leader and Operators
Conduct training for all new operators
---
PT Kyosha Indonesia 2007 - 2008
Position: QA/Local customers' claim reduction
Responsibility:
Supervising 4 subsections under QA Department.
Handling customer complaint
Handling quality improvement projects
Packaging system and process concerning transportation factors.
---
PT HIT Electro-mechanics Indonesia 2006 - 2007
Position: QA/Product Safety Certifications
Responsibility:
International product safety licences controller.
Quality improvement in testing systems,
Supervising internal tests according to international product standards.