Concept development and technical design
Concept development and technical design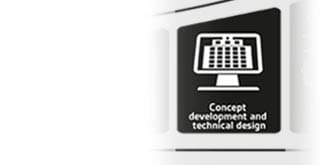 Concept, Development and Technical Design
The concept, development and technical design stages of a built asset are complex, involve many stakeholders, and can have a critical impact – both negatively or positively – on the end result. We understand that it's essential to get these stages right in order to meet your objectives, and produce a high quality asset.
We work within construction and the built environment every day, so we understand your challenges, such as:
Design management and sufficient knowledge and experience in your team
Quality issues
Understanding when and how defects happen
Outside conditions which may alter the project, e.g. client economy
Health and well-being of users and occupants, when considering design layouts and materials used
Clarity around what information is expected to be provided at handover
How we can help
Since 1901, we have been working with companies right across the supply chain, so we understand the challenges you face. We can help you to build organizational resilience, to help you succeed in the long-term, reduce risks and be adaptable to change.
From Standards, Training, Assessment or Business Improvement software, our clients tell us that our services enable them to improve their products and services, increase their competitive edge, reduce the likelihood of mistakes, and manage their risk
'With Eurocodes PLUS, the whole process is simplified... you can also read expert comments and create your own notes, making it easy to capture and share best practice.' Mike Chrimes, Former Director, Engineering Policy and Innovation at the Institution of Civil Engineers.
'Without Eurocodes PLUS, we might very well have a 3-inch deep layer of codes documents covering every inch of our meeting room table.' John Harrison, Structural Engineer, Reid and Steel.
Our solutions
We have a wide variety of solutions to help you increase performance, manage sustainability and reduce your risks:
Standards for Construction and Built Environment

Training for Construction and Built Environment
Assessment for Construction and Built Environment
Digital tools for Construction and Built Environment
Talk to us
We have experts who understand your industry and challenges. Talk to us today.
---