Safety is the first priority with amended electrical test standard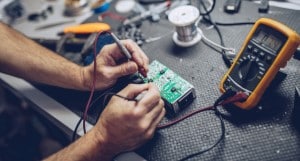 User feedback has resulted in important amendments to the international standard on electrical equipment testing. This blog post sets out what's changed and how it's come about.
In 2010 BSI published the latest revision to the international standard that sets out general safety requirements for those who operate electrical test, measurement and industrial process-control equipment. This was the third edition of the standard and constituted a big revision. As well as numerous small modifications, 14 significant changes were introduced so that the standard kept pace with changing technology and working practices.
However, almost as soon as the standard was published, it ran into some issues with manufacturers and test houses in the real world who noted areas where it could be improved.
As a consequence of this user feedback IEC committee experts immediately started discussing what could be done. The upshot was a decision to amend the third edition. This would both make the crucial changes necessary to ensure that the ISM industry had the standard it needed, and act to bridge the gap between Edition 3 and Edition 4 of the standard. It is this amendment to the third edition which has now been published as BS EN 61010-1:2010+A1:2018 Safety requirements for electrical equipment for measurement, control, and laboratory use. Part 1. General requirements.
What's new?
BS EN 61010-1 has always had a simple, clear goal – which is to reduce, to a tolerable level, the hazards faced by operators and the surrounding area when electrical equipment and accessories are being tested by professionals. Hazards include electrical shock or burn, spread of fire from the equipment, and the danger of explosions or implosions caused by escaped gasses. So any company that sells, or manufactures measurement, control and laboratory equipment, or related components and assemblies, will want this standard.
The 2018 amendment benefited in particular from the invaluable input of test houses during its development. Resultantly the document has changed in four main areas. First, new guidance has been introduced on lamps and lamp systems emitting ultraviolet or infrared radiation. Second, Clause 5.4.2 now includes pollution degree. It provides more detailed guidance on the operating environmental conditions for which the equipment is designed, including additional guidance on the requirements of ambient temperature measurements and IP ratings (as defined in BS EN 60529), including new conditions for the testing of such equipment and protection requirements against solid foreign objects and water.
Third, pressure test requirements have also been clarified. This includes a new chart to determine the ratio between test pressure and maximum working pressure. Finally the requirements around protection against liberated gases and substances have been clarified.
The result is a safer and most robust document. It means that operators can now have more confidence when testing electrical test and measurement equipment, electrical industrial process control equipment and electrical laboratory equipment, which is good news for everyone.