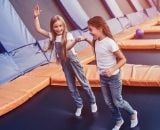 Client success story
Challenge: Influencing the industry to ensure public safety at trampoline parks
Trampoline parks have seen rapid growth over the past few years. However, there was growing industry and public concern over accidents. In one year, ambulances were called out to 1,181 incidents at trampoline parks across England - more than than three a day [1]. The International Association of Trampoline Parks (IATP) wanted to decrease the number of accidents by helping operators introduce more robust safety protocols.
PAS 5000 specifies:
Requirements for the construction of indoor trampoline parks that are made up of interconnected trampolines being used for non-competitive leisure activities
Day-to-day park operating and maintenance requirements
Increased trust with the industry and customers
PAS 5000 was required to support safety and reduce accidents, written by a steering group that included RoSPA, British Gymnastics, The Health and Safety Executive, Environmental Health Officers, Constructors, Insurers, and Operators, giving the fast-track standard a high level of credibility within the industry.
Leadership and influence
This fast-track standard has allowed the International Association of Trampoline Parks (IATP) to create leadership and influence within the industry. The IATP, the world's only organization devoted to promoting the indoor trampoline park industry, now requires all members to have implemented PAS 5000 before they can join the association.