Certified Information Privacy Professional / Manager (CIPP/CIPM)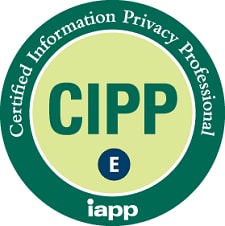 Get global recognition as a data protection professional with our Certified Information Privacy Professional Europe (CIPP/E) course. This 2 day course is based on data protection laws and industry-standard best practices that organizations need to comply with to manage privacy.
On this course you will look at models for privacy enforcement, key privacy terminology and practical concepts for protecting personal data and data flows between different countries, helping your company build its business resilience.
By attending this course you will gain the knowledge and skills required for the International Association of Privacy Professionals (IAPP) CIPP/E exam, which will get you Certified Information Privacy Professional status.
The IAPP CIPP certification builds upon the Certification Foundation program, which covers the key global privacy concepts. To become CIPP certified, you'll need to pass both the Certificate Foundation and CIPP exams.
Who should attend?
This course is designed for anyone whose work is related to the processing of personal data, particularly those in the public sector and from EU institutions, agencies and bodies, including:
Data Protection Officers
Compliance Officers
Information Officers
Record Managers
Human Resources Officers
Data Protection Professionals
What will I learn?
Get an introduction the origins and historical context for privacy in Europe, the European regulatory institutions and the legislative framework for current EU data protection law at both the EU and state level
Understand data protection concepts and principles, application of the law, legitimate processing criteria, information provision obligations, data subject rights, confidentiality and security, notification requirements, supervision and enforcement and international data transfers
How to help employment relationship, surveillance activities, marketing activities, internet technology and communications, and outsourcing to understand privacy requirements specific to them
How will I benefit?
You'll have an enhanced understanding of jurisdictional laws, regulations and enforcement models, rules and standards
Feel confident with the essential privacy concepts and principals and legal requirements for handling and transferring data
Be familiar with the key areas of CIPP/E required for the exam
You'll have practical experience to apply concepts and achieve a best practice privacy program
Be skilled to help your organization have resilience with personal data management and data flow between different countries
What's included?
Comprehensive course notes
A certificate of attendance
*Please note: that whilst exam costs are covered within the fee of this course, you will need to book your exam via the IAPP website.