Environment Agency-Abu Dhabi (EAD) awarded ISO 22301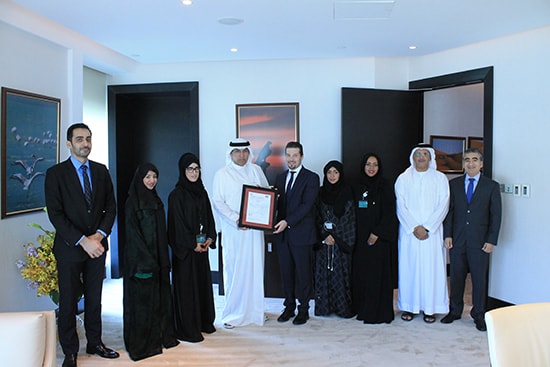 The Environment Agency-Abu Dhabi (EAD) has been awarded ISO 22301 for successfully implementing a Business Continuity Management System. The certificate was handed over to Mr Abdullah Eisa Zamzam, EAD's Assistant Secretary-General of Operations by Yahya El Olabi, General Manager of BSI Middle East and Africa.
The EAD was established in 1996 and is committed to protecting and enhancing air quality, groundwater as well as the biodiversity throughout the desert and marine ecosystem. By partnering with other government entities, the private sector, NGOs and global environmental agencies, they embrace international best practice, innovation and hard work to institute effective policy measures. EAD's aim is to raise environmental awareness, facilitate sustainable development and ensure environmental issues remain one of the top priorities of national agenda.​
Commenting on the occasion Mr Yahya El Olabi expressed that 'this certification is a proud moment for the Environment Agency and their team, it provides evidence of the outstanding level of effort and work that went into attaining this certification. This certification highlights the vision of the EAD to respond to incidents and business disruptions in an effective and planned manner should they need to. I congratulate Mr Abdullah Eisa Zamzam and his team on their certification to this great achievement'.
ISO 22031 is the International Standard for Business Continuity Management Systems (BCMS). It defines the strategic and tactical capability of an organization to plan for and respond to incidents and business disruptions in order to continue business operations at an acceptable pre-defined level. It is an incontrovertible fact that most organizations will, at some point, be faced with having to respond to an incident which may disrupt or threaten the day-to-day operations of their business. A successful Business Continuity Management (BCM) programme, established to respond to any potential disruption, is essential for all organisations. Ensuring a holistic BCMS is in place will not only help an organization recover from disasters, but will also prevent the reputational damage that can arise from any operational outages, missed deadlines, upset customers, or direct financial loss.