Jaiz Bank receives ISO 27001 certification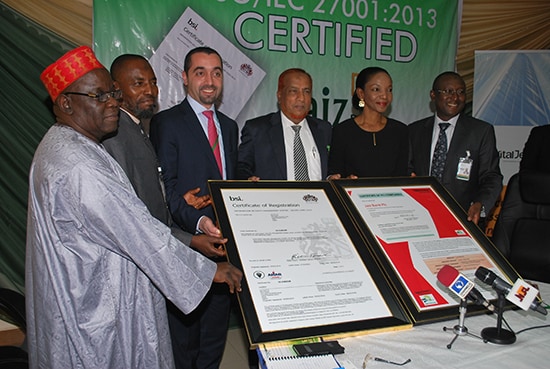 Jaiz Bank Plc has been awarded ISO 27001, the Information Security Management Standard by the British Standard Institution (BSI).
The certification entails that the bank has met all levels of confidence in information security management, becoming one of the eight financial institutions in the country to be certified by the BSI.
Speaking on Tuesday in Abuja while receiving the award, Managing Director of the bank, Mr. Muhammad Nurul Islam said 'the certification had proved its efforts to comply with local and international regulations regarding data protection, privacy and IT governance. Ultimately ISO 27001 provides a high level of confidence and trust in organizations that are certified to it as it confirms that the organization has put in place best practices in information security processes and has ensured data integrity, confidentiality and availability and most of all customer asset safety. Information assets define an organization and ranges from physical and digital data, human capital, business process and infrastructure among others'.
'Organizations certified to ISO have a competitive edge over peers as being able to handle and process clients' sensitive information in a secure and professional manner. Certification also leads to a reduction in cost that may have arisen from unguarded risk exposures that are avoided or prevented, also processes are better aligned and attuned to the organization strategy and purpose'.
He further added: "We are happy that Jaiz is among the few early banks in Nigeria to be certified. This shows the readiness of the Bank to provide innovative products and cater for the needs of our customers'.
Also speaking at the occasion was Ahmad Al Khatib, General Manager for Assurance, BSI Middle East and Africa, congratulated the bank and said the certification marked the beginning of a new journey for the financial institution. He urged it to work hard to entrench and sustain better information security and governance as the award is subject to evaluation and review from time to time. He expressed the commitment of BSI to continue to work with them to see areas of improvement in the standard to ensure the bank remained certified.