What's new about IEC 60079-15 on explosive atmospheres?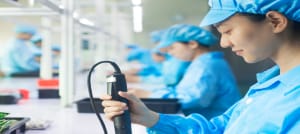 One of the IEC's most popular explosive atmospheres standards has just undergone a full technical revision. This blog post explains what's new about the standard.
Did you know that electrically initiated explosions were first discovered when electrical equipment was introduced into coal mines? The phenomenon gave rise to technical standards designed to prevent the electrical initiation of explosions. The standards work by setting out requirements which prevent flammable gas or dust from getting into electrical equipment in the first place. Or by designing equipment so it can't produce a strong enough spark. Or finally by manufacturing equipment so that it can contain or cool the combustion internally. One such standard is BS EN IEC 60079-15 Explosive atmospheres. Equipment protection by type of protection "n", the subject of a recent full technical revision.
What the standard covers
BS EN IEC 60079-15 specifies requirements for the construction, testing and marking of Group II electrical equipment with type of protection "n". That covers equipment designed so that it will not ignite the surrounding explosive atmosphere in normal operation and under certain specified fault conditions.
Part 15 applies to electrical equipment where the rated input voltage does not exceed 15 kV r.m.s. AC or DC including where the internal working voltages of the Ex product exceeds 15 kV, for example starters for HID luminaires.
Type of protection "n" includes sealed and hermetically sealed devices and non-incendive components, all designated "nC"; as well as restricted breathing enclosures – "nR" – intended for use in explosive gas atmospheres.
Revisions to Part 15
Part 15 of the IEC 60079 standard was first published in 1987. It was subsequently revised in 2001, 2005 and 2010. The fifth edition of the standard has now been published in May 2019.
This standard cancels and replaces the 2010 version and is a full technical revision. It includes a large number of minor and editorial changes, as well as around 30 major technical changes. These include:
The scope has been updated to allow equipment with internal working voltages over 15 kV such as starters for HID luminaires
The following requirements have been removed:

minimum degree of protection
clearance, creepage and separation
determination of working voltage
conformal coating
CTI
insulation between conductive parts and measurement of creepage
clearance
General supplementary requirements for equipment producing arcs, sparks or hot surfaces have been removed
The requirements for sealed devices have been extended to require more documentation
Industrial standard compliance and battery requirements have been added
This is an important safety standard. As such it provides a voluntary means of conforming to the essential requirements of 2014/34/EU, the European Union legislation on equipment used in potentially explosive atmospheres.
That said, the key point of the standard is to prevent damaging explosions. It's therefore hoped that the expert revision which the standard has just undergone will ensure the safe operation of specified electrical equipment in applicable potentially explosive atmospheres for some years to come.