Information Security Training Courses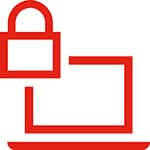 Today, in this highly interconnected world, protecting information is increasingly important. Organizations need to ensure they secure personal records and commercially sensitive information from business risk and vulnerabilities. With our range of information security training courses we can help you get the knowledge and skills you need to build resilience around your information security management.
Whether you're working to the internationally recognized ISO/IEC 27001 Information Security Management System or looking to gain a professional qualification that gets you recognition for your specialist role, our informative, interactive courses can help you develop.
Browse through our information security courses, or talk to our team about the best options for your business.