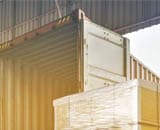 Cargo Crime in Gulf Countries and Regional Free Trade Zones
Because Free Trade Zones (FTZ) are significant structural components of the political economy in the Middle East, particularly for Gulf countries, they also represent potential vulnerabilities for supply chains by virtue of facilitating high volumes of trade under simplified customs procedures that can provide opportunities for criminals to act. Furthermore, as Gulf Cooperation Council (GCC) economies return to pre-pandemic levels, with data provided by the International Road Transport Union (IRU) projecting growth in trade, it is possible that criminals will seek to exploit these higher volumes of trade to introduce illicit drugs and counterfeited products into cargo.
Complete the form below to download the full report.