Getting smart with security – how the BSI Kitemark™ makes safety and security accessible in your home
Six minutes. On average, that's how fast an IoT device can be hacked. Smart devices are everywhere, but so are safety and security concerns. In 2023, smart homes are no longer a future thought. Safety and security in your home is important and quite honestly, necessary. How would you feel knowing that the BSI Kitemark™ certified device protects your family even when you're away from home?
In a buoyant market where innovation is fast, and competition is fierce, certain standards can slip. Though US consumers are happy to invite smart devices into their homes, they don't necessarily trust them. According to Internet Society & Consumers International, 53% of global consumers doubt their devices will protect their privacy and personal information properly.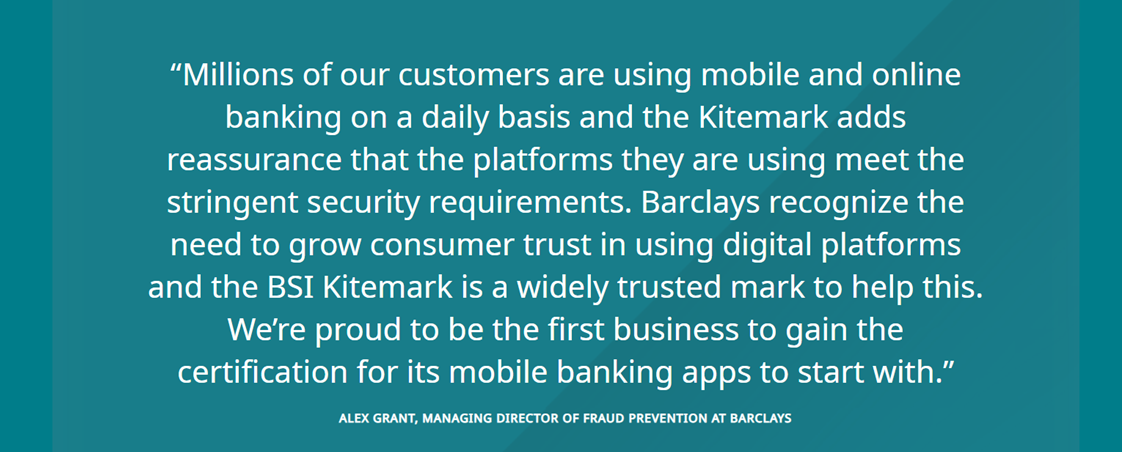 The value of independent certification
To secure the trust of clients, manufacturers need to give them reasons to be confident in the quality, safety, and performance of products. With independent certification from a trusted third party like BSI, consumers are more likely to feel their smart homes are keeping them safe and secure. We have created a framework to build trust in the security of IoT devices, data, and applications.
The BSI Kitemark™ promotes trust and confidence in the quality, safety, and security of smart devices. We value enhancing customer satisfaction, ensuring risk reduction, and enabling market access and development for global companies. The role of the mark of trust is to enable those who have invested time, effort, and money are making products that their clients can trust.
Without clear standards and guidelines for how their data should be processed and safeguarded, people are anxious about cybersecurity and privacy issues they face when owning smart devices.
Facing data privacy and security legislation resiliently
In efforts to ease these concerns, federal legislation is working its way through Congress. The American Data Privacy and Protection Act, if passed, would follow five states who have already moved to tighten privacy laws (California, Connecticut, Colorado, Utah, and Virginia.) Legislation is an important element of protecting the public but is inevitably a compromise aimed at keeping out the worst as well.
The opportunity to differentiate
Research shows that strengthening trust in smart devices offers important differentiation. 83% of consumers would be more likely to choose a smart device for the home with an independently verified mark. The commercial advantage is even clearer when you consider the following:
67% would pay a 5% premium for a home connected device with an independently verified mark
Almost half (49%) would be willing to pay 15% extra for independently verified devices
One in five consumers are "much more likely" to buy a BSI Kitemark™ branded product than one without
Let BSI set the standard for your smart devices
The smart move for safe homes requires a clear promise that its smart devices have been tested and certified by a trusted and independent organization. Our certification supports businesses that want to embrace resilience, exceed industry standards, and stand out from the competition.
With more than 100 years of expertise in developing safety, performance, and quality of products and with innovation at our core, BSI is committed to enhancing market access and development for organizations. We work with governments, academics, and industries around the world to shape, share, and support best practice in key areas, such as digital trust, cybersecurity, and privacy.
You want to keep homes safe and secure, and we are here to assist; a certified mark helps your clients recognize that our smart device is the answer. At BSI, we strive for safety and security and our Kitemark™ backs that up.