Careers in Excellence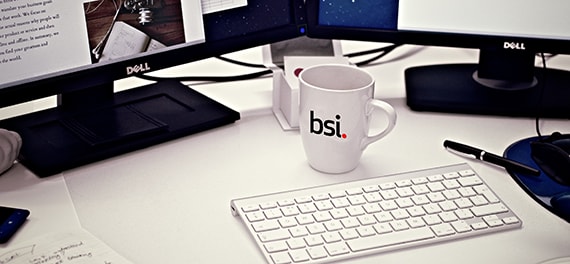 With offices spread across the globe and a varied and dynamic selection of job roles, our careers section of our UK website is continually buzzing with activity and interest. With BSI being a UK Superbrand and also holding the prestigious Royal Charter, it's no wonder people are interested in working here at BSI.

As a current employee, I am frequently asked two main things via our online chat tool.
What is the best thing about working at BSI and what is the quickest way to submit an application to our recruitment experts?
How to apply
Firstly, the best place to start is to search our current vacancies to find the role for you. Then by creating a profile on our careers centre you can highlight your skills to our attention and demonstrate your interest for a particular role. You can upload a CV, cover letter and list key information about important factors such as relocation possibilities and specific skills you have. You can also send us your CV / resume as a speculative application if there isn't the right vacancy for you at the moment.

As with joining any new organisation, it is important to know who we are and what we stand for. By looking over our website, watching our YouTube videos and following us on Twitter and LinkedIn you can get a feel for what life is like at BSI and the kind of work we do. You will see posts about events we host, updates on published standards and links to articles we write.
We have a wide selection of roles at BSI including Excellence Assessors, test engineers, marketers and cyber security specialists. You can easily track which new opportunities are available by viewing our global careers page on LinkedIn and by creating a careers profile you can easily access on our website.
What it's like to work for BSI
When it comes to working for BSI no two days are the same. Thanks to the variety of services we offer, I am always liaising with clients from a wide range of sectors and industries about different topics. As an Online Customer Engagement Executive, I love that I get to hear about our clients specific requirements for their businesses and that I get to help guide them to achieve these goals by using our knowledge, expertise and services. I also get to highlight areas for improvement, share new ideas for product testing and feedback comments from events, webinars and training courses based on the conversations I have with clients.
From helping shape standards, to testing products we are so much more than your average certification body. So what are you waiting for? Start your career with BSI today.

Author: Sarah Bygrave
Online Customer Engagement Executive