Gain market access in Europe with CE mark approval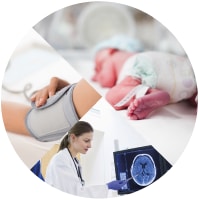 CE marking is the medical device manufacturer's claim that a product meets the essential requirements of all relevant European Medical Device Directives. The Directives outline the safety and performance requirements for medical devices in the European Union (EU). The CE mark is a legal requirement to place a device on the market in the EU.
As a Notified Body under the Medical Device Directives, BSI has the technical expertise and experience to provide CE marking services.
The regulatory requirements for European market access
The requirements for medical devices are changing. Since the 1990s, the core legal framework for medical devices in the EU has consisted of three directives:
These Directives are being replaced by the new Medical Devices Regulation and IVD Regulation, published on May 5th 2017. Until notified bodies are designated to certify against the new Regulations, all medical devices must fulfil the essential requirements set out in the above mentioned Directives. Where available, relevant standards may be used to demonstrate compliance with the essential requirements defined in the Directives list of harmonized standards.
It is important that you prepare to meet the new requirements, so you are ready for certification soon after your Notified Body is designated. You can find out more about the transition on our dedicated webpages: MDR revision or IVDR revision.
BSI is a full scope Notified Body to the Medical Device Directives. This means whatever type of device a manufacturer wishes to market in Europe, where CE marking is a legal requirement, BSI has the technical expertise to provide appropriate conformity assessment services.
---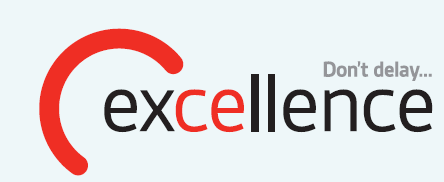 How do I obtain CE marking?
CE marking is the manufacturer's declaration that the medical device meets the appropriate regulatory requirements. To understand which requirements you need to meet, you must classify the device and identify the appropriate conformity assessment route for your product. This dictates the required activities to demonstrate conformity. We will review the route you chose to confirm its suitability, and work with you to execute the most efficient review process for the route selected. Our trusted review processes allow you to build reliability and confidence into your CE marking project planning.
CE-Excellence: BSI technical documentation review services
BSI has a strong commitment to providing the most experienced and efficient routes to global markets. That is why we offer you our trusted technical documentation review service, CE-Excellence. We understand the challenges of achieving market access efficiently and safely, meeting commercial goals and regulatory requirements. Our services have been developed to support manufacturers seeking timely market access without compromise. They combine efficiency with the integrity, independence, predictability and thoroughness that you have come to expect from BSI.
Note: Our services do not guarantee a CE Marking certificate will be issued within a certain amount of working days, but are based on completing the review process with either a positive or negative recommendation. CE-Dedicated FastTrack and CE-Onsite FastTrack is not available for devices utilising animal tissue, blood derivatives or medicinal substances.
We can provide the following CE Marking services:
CE-Standard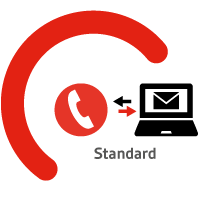 The BSI CE-Standard review service allows you to work closely with your assigned BSI Product Expert on your product certification. These reviews are conducted remotely, with communication between you and your BSI Product Expert via phone and email, as required.
---
CE-Dedicated FastTrack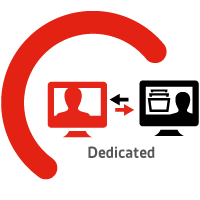 The BSI CE-Dedicated FastTrack review service allows you to schedule your technical documentation review with a dedicated BSI Product Expert. The review is conducted remotely via teleconferencing, allowing you to engage with your dedicated BSI Product Expert and provide immediate responses to their questions. This allows predictability in planning for the review, and can improve the efficiency of the review process.
---
CE-Onsite FastTrack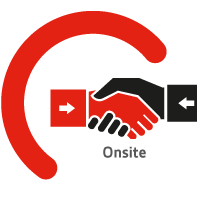 The CE-Onsite FastTrack review service is conducted at your premises; a BSI Product Expert visits the facility for a period of time. CE-Onsite FastTrack reviews allow for dynamic communications and opportunities for immediate responses to questions raised by the reviewer. Planning a CE-Onsite FastTrack review in advance provides you with more predictability and the reassurance of knowing when your BSI Product Expert will be at your premises.
---
The new revision of MEDDEV 2.7.1 Revision 4: Key changes and clarifications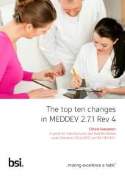 Revision 4 of the MEDDEV guidance document 2.7.1 - Clinical Evaluation: A guide for manufacturers and notified bodies under Directive 93/42/EEC and 90/385/EEC - was released by the European Commission on 1st July 2016.
This document provides information to manufacturers on conducting a clinical evaluation, including demonstration of scientific validity of your data and conclusions.
Featured Guide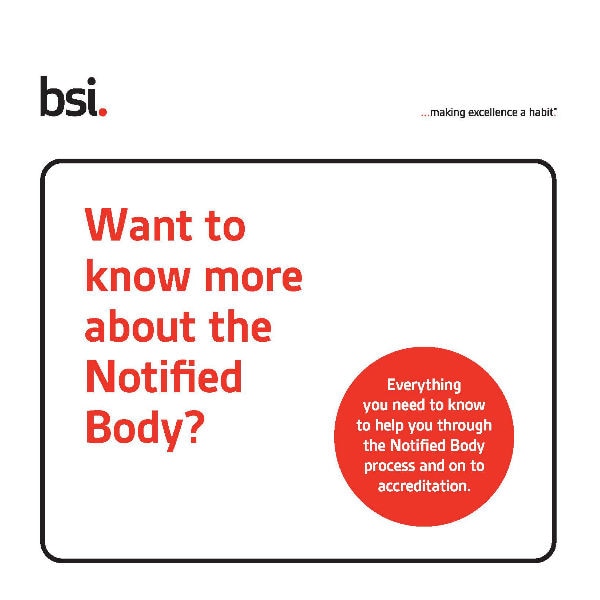 Want to know more about the Notified Body?
Download the BSI Guide to Notified Bodies to find out the answer to these and many other questions:
- What is CE marking?
- What is the role of the Competent Authority?
- What is the role of the Notified Body?
How BSI can simplify your path to CE compliance
With a vast range of product certification experience, BSI offers a comprehensive and personally tailored service to take your product through the CE marking process quickly and efficiently.
Our team of testing and certification experts assigned to work with you, will be willing and able to advise you every step of the way.
Our aim is to provide you with a high quality, fast, reliable and stress-free service that un-complicates the process and enables you to meet your deadlines
---
EU Directives
With Certifying Body status for many of the European Directives, BSI can offer one of the most comprehensive CE Marking (CE Mark) certification services in the world and has a team of experts who understand precisely what each Directive requires for each product – to make your life easier.
BSI is currently a Certifying Body for the following European Directives.
---
What are the benefits of CE Marking?
The EU introduced the CE marking scheme to make trade easier and cheaper between EU countries. It means that a manufacturer claims that their product conforms to the minimum legal requirements for health and safety as laid down in EU directives.
Often customers will look for CE marking on a product as an indication of conformance to certain minimum standards, and therefore a minimum level of quality that other products may lack
---
For consumers:
CE marking itself is not about quality, nor is it intended to convey any meaning to specifiers, purchasers or end users who are, after all, reasonably entitled to assume that what they buy from a reputable source is legal.
CE marking and European Directives
The letters CE on a product are intended for regulatory surveillance authorities. They represent the manufacturer's claim that the requirements of all relevant European Directives have been satisfied. Many products are covered by these Directives and for some, such as toys, it is a legal requirement to mark the product accordingly.
CE marking on a product, its packaging or accompanying information indicates that the minimum levels of quality and health & safety have been met. CE marking provides for the product to move freely throughout the European Single Market.
CE marking may simply involve testing carried out by the manufacturer or it may involve intervention of an independent third party, depending on the product and the Directive concerned. Purchasers may need to check the CE marking accompanying information to ascertain that the product is appropriate for their needs.
In summary
In summary then, the CE marking indicates that the manufacturer has met the minimum legal requirements for their products in regard to health and safety under European Directives. CE marking is not, therefore, intended to be a quality mark.
---
Why choose BSI Australia for your CE marking approval?
Expansion into global markets like Europe represents a profitable future for medical device manufacturers, but this transition also requires an in-depth understanding of complicated regulatory demands and unique market challenges. With the goal of bringing your product to market in the most efficient manner possible, we can help you overcome every hurdle along the way. Our wealth of expertise across the medical device space allows you to:
Understand the regulations of three different council directives (AIMDD, MDD and IVDD) as well as the six amending commission directives, and other additional directives
Move past unforeseen administrative setbacks without delaying market approval
Define unclear requirements on the quantity and quality of clinical data required
Resolve the unclear regulatory status of a (borderline) product
Prepare for and adjust to any new and/or revised legislation that will go into effect during your review
---
The best way to get your products to market
In the race to get new medical devices to market, speed is a crucial component. BSI has a strong commitment to providing a fast and experienced path to global markets. This adds up to the kind of speed-to-market you need if you want to stay competitive, or more importantly, move ahead of the competition.
Our programs have been developed especially for medical devices needing Technical File and Design Dossier Reviews. They combine speed-to-market with the integrity, independence, predictability and the thoroughness you'd expect from BSI.
---