When quality matters most, trust the BSI Kitemark™
When quality matters most, trust the BSI Kitemark™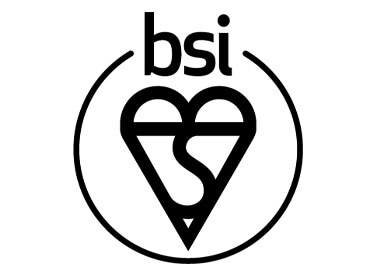 The BSI Kitemark for Businesses
Could your business benefit from a trusted quality mark that could help you to differentiate your products or services, demonstrate your commitment to quality, and boost trust in the products and services you provide? If so the BSI Kitemark could be the right choice for your business.
Our clients tell us that the top benefits in achieving a BSI Kitemark are:
We have reduced our operational risk
We have improved our business's reputation in the marketplace
We have improved our internal business confidence
We have improved our customer satisfaction
Whether you are supplying products and services to consumers or into a Business to Business environment, the BSI Kitemark is a recognized mark of quality safety and trust that can add value to any business. As we are independent and impartial we don't award a Kitemark without it being rigorously tested or assessed in our laboratories or at on-site inspections. It's a clear signal to a buyer that you have made a significant investment in your business to provide the very best.
72% of consumers recognize the BSI Kitemark and associate it with safe and reliable products and services.
GfK NOP survey of 1,000 UK adults in December 2010
Established in 1903, and now seen on products from windows and doors, to services such as vehicle damage repair and secure digital transactions, the BSI Kitemark is one of the most recognised badges of quality for business in the UK and overseas. Demand for Kitemark certification worldwide is growing as more and more organizations are specifying the Kitemark, particularly for key projects demanding high integrity third party approval of products.
With clients in 150 countries, and 67 offices worldwide, operating in three regional hubs, (EMEA, ASIA PAC, and the Americas) we have the global footprint to work with your business. We can provide local support that meets your needs. In addition to BSI Kitemark certification we are Notified Body for 17 European Directives we can help you meet the requirements to trade in Europe. We have UKAS accredited laboratories, and can provide testing, mandatory or voluntary certification and compliance wherever your business is located.
We want our clients to feel the value of the investment in the BSI Kitemark. We are dedicated to working with leading trade associations, government agencies, and procurement professionals globally to educate and inform of benefits of supporting and specifying the BSI Kitemark products and services.
All Kitemark clients benefit from a listing on our on-line product directory which is a powerful tool for those who require a reference database that can be used to identify acceptable products for tenders and validation. Users can search for approved BSI Kitemark products with their model numbers and descriptions. This makes it easier for specifiers to identify products and services with the BSI Kitemark.
"It is crucial that we meet the needs of specifiers to drive demand for the Kitemark and to ensure it retains its value as a trusted quality mark," says Bob Wells, Global Head of Personal Safety. "What's more by launching this directory we will add value for our Kitemark licensees."
In the Business to Business arena we regularly exhibit at major trade exhibitions for our core markets around the world. In the consumer arena BSI Kitemark testing has recently appeared on the BBC, and we regularly feature in leading daily newspapers.
The BSI Kitemark is not a light undertaking, it requires serious commitment and as such it is valued by those who have achieved it and by those choosing products and services from a Kitemark holder.
For a manufacturer to achieve the BSI Kitemark, the following steps typically need to be taken:
• Initial laboratory type testing of the product design;
• Initial assessment of the manufacturing site and associated manufacturing quality plan (usually to a recognised standard such as ISO 9001)
• On-going factory assessments, once or twice a year, to ensure that the quality plan remains in place and agreed manufacturing procedures are being followed
• A review of on-going product manufacturing to the relevant standard to ensure compliant products continue to be made and where the standard is amended or updated that the design will continue to meet the standard's requirements.
If you would like to speak to one of our team about the BSI Kitemark for your business call us on +91 11 4762 9000 or email us at info.in@bsigroup.com