ISO 9001:2015 Quality Management System (IRCA Certified) Auditor Transition Training Course
Course Description
Are you an ISO 9001:2008 Internal or Lead Auditor who wants to develop the expertise to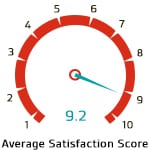 audit an ISO 9001:2015 Quality Management System (QMS)? This course is ideal for existing auditors, as not only will you learn about the new ISO high level structure and the key differences between ISO 9001:2008 and ISO 9001:2015, but you'll also get a chance to practice auditing to the main changes in ISO 9001:2015.
IRCA course reference number: 17863
Who should attend?
ISO 9001:2008 Internal and Lead Auditors who need to convert to ISO 9001:2015.
What will you learn?
You will learn about:
Annex SL Appendix 2 and the framework for the new ISO high level structure
Specific new requirements relating to Context, Leadership, Planning, Support and Operation - and how to audit them
New and revised terms and definitions applicable to ISO 9001:2015, as well as key concepts such as risk-based thinking and process approach
Changes to the requirements from ISO 9001:2008 and their impact from an auditing perspective.
How will I benefit?
Understand the key changes between ISO 9001:2008 and ISO 9001:2015
Prepare, conduct and develop the skills for an ISO 9001:2015 audit
Meet the IRCA Auditor transition training requirements.
Prerequisites
There are no formal prerequisites but delegates should have a working knowledge of ISO 9001:2008 and the competence to audit an ISO 9001 management system. Delegates do not have to have completed an IRCA certified auditor course to attend this training. You will be requested to provide a copy of your Lead Auditor/Internal Auditor training course certificate as evidence of your qualification.
Further information
You will need to undertake a 30 minute assessment with a minimum pass score of 70%.
IRCA course reference number: A17863
Detailed course notes and lunch provided.
What does the fee cover?
Training course notes
Lunch & Refreshments
Loan copy of the standard (to be returned after the course)
On completion, you'll be awarded an internationally recognized BSI Training Academy certificate
Loan copy of the standard (to be returned after the course)
Suitable for small groups
Suitable for single person
Learn from other organizations
Suitable for large groups
Flexible & convenient
Tailored for your needs