Professional services
Professional services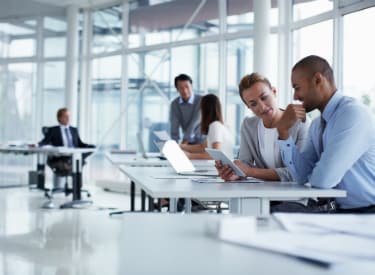 Latest insights for professional services
The world of business is constantly evolving and with it comes a set of ever-changing challenges for organizations. At BSI professional services we understand this and offer unique insight, knowledge and the know-how to help companies thrive.
We work extensively with accountants, consultants, architects, law firms, and other professions to help them deliver the most competitive services to their clients in addition to managing their own businesses.
Case Studies
How BSI assisted the manufacturing giant Doosan Bobcat Inc. with the installation of our Gartner leading partner technology solution: Zscaler.

Read Doosan Bobcat case study

Colm Fagan, Global Head of Information Security at Doosan

How the Marks and Spencer procurement team used BS 8903 to embed sustainable procurement.

Read Marks and Spencer case study

Tim Brennan, M&S Head of Logistics
Standards, training and ISO certification
BSI have been helping professional services organizations, large and small, manage risk and improve performance using standards for over 100 years.
Buy standards, learn through one of our training courses or work towards ISO certification with our expert teams.
BSI can partner you to deliver for your clients. We have a range of services from international projects to cyber security expertise to help address common challenges you face.