In today's fast paced and highly competitive markets getting compliance right first time is critical to business success. Producers need to trust and have confidence and in every stage of the supply chain.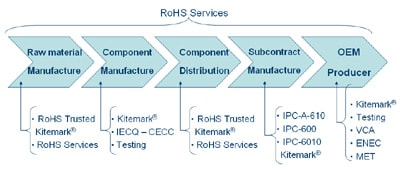 BSI range of compliance offerings enable each stage of the supply chain to build trust and confidence up and down the supply chain:
Testing service
Managed compliance services
RoHS services
Supply Chain Stages
1. IECQ - components
Testing
Bare PCBs
IPC-600 Kitemark
IPC-6010 Kitemark
RoHS trusted Kitemark
2. Sub-contract equipment manufacturers - IPC-A-610
>document download available
The world's Original Equipment Manufacturers (OEMs) are increasingly subcontracting the PCB assembly process to Contract Equipment Manufacturers (CEMs). With no differentiator in a crowded marketplace it is hard for purchasers to know the relevant capabilities offered by CEMs. The Kitemark scheme has been specifically developed to enable specifiers and purchasers to easily assess a CEM's level of competence. It also ensures that the finished assembly has been built in accordance with the requirements of IPC-A-610.   

Download the IPC-A-610 Kitemark  PDF here (PDF size 515Kb)
3. Manufacturer
Kitemark
Testing - MET
VCA
ENEC
IECQ - manufacturer approval
4. Retailer
Reduced risk to retailer
Managed Compliance
Specifiers
Distribution
RoHS Services
RoHS trusted Kitemark
IECQ - component distributors

Managed compliance
As the need for compliance becomes more complicated, an expert partner such as BSI can offer guidance throughout the design and manufacturing processes that will reduce valuable time to market, save you money and safeguard your company's reputation. Involve BSI Product Services from the concept stage and we can help you to comply with the regulatory requirements of new products or markets, providing a one-stop shop for testing, mandatory or voluntary certification and compliance issues, wherever your business is located.
Risk management
The risks of non-compliance in a regulated market are clear. Products that don't comply cannot be put on the market. But in non-regulated markets, testing and certification can help you avoid both financial risk, through prosecution for compensation and damages, and harm to your reputation: the process demonstrates that you have shown due diligence to ensure that your product meets the minimum relevant criteria for quality and safety.