ISO 19650 parts 1 and 2 – Things to consider when implementing BIM in your business
The challenges presented by COVID-19 to individuals, organizations and consumers in wider society are well known, and those working in construction are no exception. As organizations reassess their current situations as they make plans to reopen and rebuild, we consider what their 'next normal' will look like and how they can start their journey to a resilient recovery.
Organizational Resilience is "the ability of an organization to anticipate, prepare for, respond and adapt to incremental change and sudden disruptions in order to survive and prosper". At BSI we have been inspired by how our clients have been adapting to the current situation, reviewing their skills and abilities and applying them in extraordinary ways to support their own workforce and help others in their time of need.
But this raises a bigger question. When the time is right to rebuild and what does a sustainable and resilient future look like?
Innovation, collaboration, upskilling, standardization and offsite manufacturing were already on the agenda for many, but now is the time to look at these more closely; to identify what can be done to accelerate a common aim of becoming a more collaborative, innovative, productive, sustainable, profitable and resilient sector.
Plus, as the world's population continues to grow, and urbanization is rapidly increasing, most countries are facing challenges to meet the needs of their populations, including housing, transportation, energy systems, health care systems, education systems and other infrastructure.
This growing demand for (sustainable) infrastructure developments is challenged by the shortage of skilled labour and poor performance in terms of cost and productivity.
To become resilient, we must respond and adopt new ways of thinking and working. Building Information Modelling (BIM) can help address the performance and skills shortage challenges, alongside the implementation of many best practice approaches like business continuity, environmental management and health and safety address, for example to build truly sustainable, resilient organizations for 2021 and beyond. Organizations that seize this opportunity will have the opportunity to compete successfully in global markets.
To improve collaboration, standardisation and productivity, the International Standards Organization (ISO) has published ISO 19650, Organization and digitization of information about buildings and civil engineering works, including building information modelling (BIM) - Information management using building information modelling.
The first two parts, ISO 19650-1:2018 and ISO 19650-2:2018, were released in at the end of 2018, ISO 19650 part 5 will be published in July 2020 and part 3 is due to be published later this year.
ISO 19650 part-1 sets out clear principles for all those involved across the entire asset life cycle, including asset owners, lead designers, non-lead designers, main contractors, sub-contractors, manufacturers, investors, end users and public authorities.
ISO 19650 part-2 sets out specific requirements for information management from design through to planning, procurement, construction, commissioning and close-out for built assets.
Information management according to ISO 19650 requires the appointing party (UK: clients), lead appointed party (UK: anyone directly appointed by the client e.g. main contractor) and appointed party (UK: anyone appointed to the delivery team e.g. consultants and sub-contractors) to carry out specific functions.
These include defining a clear set of information requirements, capability and capacity assessment, response to information requirements, information production, verification, validation and delivery. Given the range of activities that all project stakeholders need to carry out, implementing information management according to ISO 19650 at a business level must be treated as an organizational change and can be seen as a huge task at hand.
It's important to think about the change on five levels; why, what, how, when and who.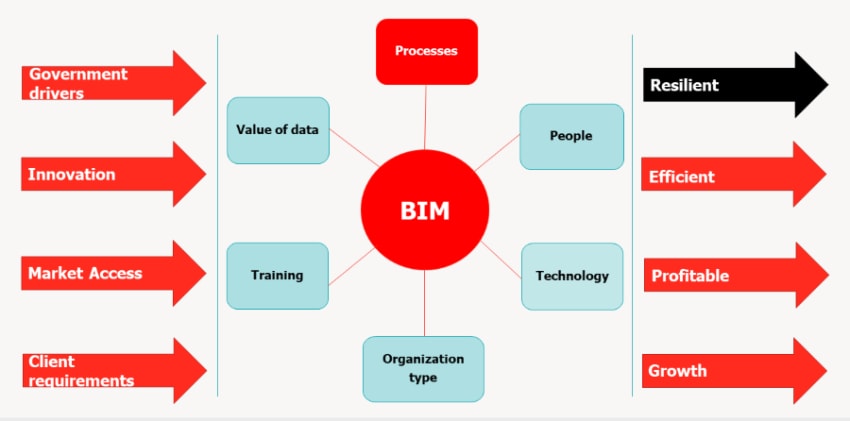 lead appointed party (UK: anyone directly appointed by the client e.g. main contractor)
Define your information management objectives: How will information management improve what you do (in terms of managing assets, managing projects, delivering projects)?
Work out what resources you need (people, written procedures, training/skills, IT software/hardware) and how these compare with what you already have
Set out a plan for acquiring the additional resources you need. Where expenditure or change to work processes is needed, what do you need to do to get approval for these?
Monitor the progress. Check that milestones and objectives are being achieved
The business benefits are clear for those already working this way. Treated as a change management programme we know that our clients are already experiencing time and cost savings in work winning, delivery and operation. Greater collaboration with supply chains is delivering less clashes, miscommunications and rework. Plus, ultimately better value is delivered to asset owners and tenants, who receive better performing infrastructure and buidings.