BSI Standards Experience
BSI Standards Experience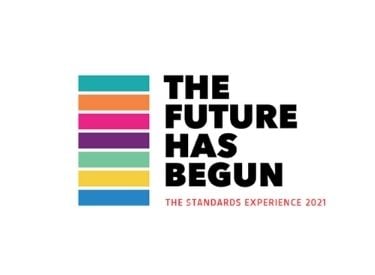 The future has begun
In July 2021, BSI launched the Standards Experience in the magnificent Library at the Institution of Civil Engineers (the ICE) at One Great George Street. On the theme, "The Future Has Begun", it is a celebration of collaborative efforts, across all sectors, illustrating that standards are a consensus tool to help shape the future of work, society and the planet.
Visitors will have an active, engaging experience, becoming a part of the conversation. Each stand will provoke thoughts and ideas. Your responses to real-world challenges can be entered into the experience app. How will your input compare to existing standards? Perhaps your comments will shape a future standard!
Topics for the stands will include:
• Equality, diversity and inclusion
• Future working environments
• Manufacturing, engineering and the built environment
• Innovation and digital
• Sustainability
• Consumer
• Environment
Why are we having the experience at the ICE?
The origins of BSI and its role as the national standards body go directly to the ICE at the turn of the twentieth century. It was two past presidents, Sir John Wolfe-Barry (1896-98) and Sir Douglas Fox (1899-1900) who, in 1901, called the first meeting of the committee on standard sections, which became the Engineering Standards Committee (ESC) later that year.
Agreeing on good practice through 'standards committees' was quickly recognised by industry and government to be important for commerce and to bolster international trade. Working with other engineering institutions, the ESC became the British Engineering Standards Association, (BESA) in 1918 and then the British Standards Institution in 1931.
The ICE was also centre stage at the founding of ISO following a UN conference held at One Great George Street in October 1946. Charles Le Maistre, a British engineer who was appointed General Secretary of the UK Standards Coordinating Committee, organised a post-war meeting of nations at which it was agreed to set up ISO, whose first official meeting took place the following year.
To discover the power of human interaction, conversation and collaboration, and how this can help build standards that will benefit individuals, organizations and communities all over the world, visit 'The Standards Experience' web app:
https://www.standardsexperience.co.uk
The Standards Experience is open to members of the public and is free to visit. Please do take the time to visit the ICE and enjoy the experience.
The experience uses custom installations to engage visitors with questions and ideas. See below a tour of the exhibition.