Certified Information Privacy Manager (CIPM®) training course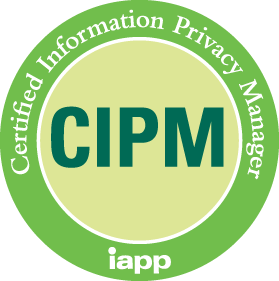 Why become a Certified Information Privacy Manager (CIPM)?
The California Consumer Protection Act (CCPA) came into effect in 2020, Europe's General Data Protection Regulation (GDPR) has been in place since 2018. With more and more privacy laws being revised and established all around the world, are you equipped for the new privacy compliance challenge that's here to stay?
Among the various mandates in new privacy laws is the obligation to appoint knowledgeable privacy professionals (or even Data Protection Officers (DPO)) tasked with advising the business, monitoring compliance, managing internal privacy activities, training staff, conducting audits and more. There's a lot to know, there's a lot at stake and there's a lot of opportunity for privacy and data protection professionals with the right training and education.
Achieving a CIPM credential shows that you have a comprehensive knowledge of how privacy and data protection programs should work across an organization. Add a CIPP/E or CIPT credential and prove that you not only can manage a data protection programs, but you understand the regulations that govern and the technologies that support them.
Duration: 2 days
> Related course Certified Information Privacy Professional Europe (CIPP/E)
Who should attend?
Data Protection Officers
Data Protection Managers
Legal Compliance Officers
Auditors
Security Managers
Information Managers
Anyone involved with data protection processes and programmes
What will I learn?
How to create a company vision
How to structure the privacy team
How to develop and implement a privacy program framework
How to communicate to stakeholders
How to measure performance
The privacy program operational lifecycle
How will I benefit?
Be recognized as an experienced privacy program manager
Gain the confidence to interpret privacy regulations and make them work for an organization
Understand best practice approach to establish, maintain and manage a privacy program across all stages of its lifecycle
What's included?
Comprehensive course notes
A certificate of attendance
1 year's IAPP membership
Exam costs included*
* Please note that whilst exam costs are covered within the fee of this course, you will need to book your exam via the IAPP website