Turkish Cast Iron company Mert Dokum achieved BSI Certification for their products
11 February 2019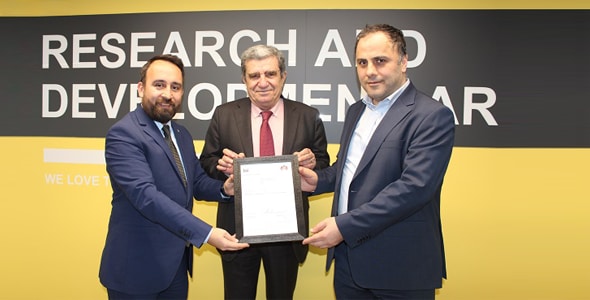 Founded in 1990, Mert Döküm has been operating in cast iron sector and has rapidly expanded to the foreign markets in the last 10 years. In January 2019, BSI's META Region Business Development Manager Hanifi Baran handed over BSI's Verification Certificate to Mert Döküm's Board Member Ekrem Kanitoglu and General Manager Osman Demiralay with a ceremony.
Ekrem Kanitoglu explains why they chose BSI Kitemark™ certification for their products as this "First of all, we wanted to prove that our products are both high quality and safe. Then we realized that BSI Kitemark™ is the only certificate in the globe, that can prove a product is both quality and safety which highly excited us. Given that comparing to the other certifications, achieving BSI Kitemark™ was both challenging and wider in scope, we knew that it would strengthen our quality infrastructure and improve our products. Hence, we decided to work with BSI. With our new BSI Verification Certificate we even won some businesses from New Istanbul Airport constructions and some projects in Qatar which later proved that we had made a right decision by choosing BSI".
As Mert Döküm aims at continuous development, it has increased its product range. It is a pioneer company that is certified in Polymer Drainage Channel manufacturing industry. The company has been operating in 3 different locations. Mert Döküm successfully develops with its own foundries that manufacture ductile iron products which are certified to BSI Kitemark™. One of those foundries has the capacity of 30.000 tons/year in the eastern Turkey. Another one in Istanbul is manufacturing Polymer Drainage Channel at 2000 tons/year. The company has also recently opened a new plant focused on Metalwork.
Mert Döküm has ISO 9001, ISO 14001 and OHSAS 18001 management systems while being the first company in Turkey certified with BSI (Verification Certificate - VC 672 820) on manufacturing polymer drainage channels. Mert Döküm focuses on European, Asian, African, and Gulf markets.
Mert Döküm has placed the total quality in the heart of their organization since its foundation. Therefore, training the staff is a regular activity within the company to increase the customer satisfaction as well as keeping up the continual improvement in the processes.